SY-PWM-30A

30A 24V/12V PWM Street Light Solar Panel Charge Controller
Attention
1. High-efficiency charging, series PWM charging mode to extend the battery life.
2. Configurable battery and parameters, for sealed, gel and flooded batteries.
3. Supporting manual switch for continous supply of solar system.
4. Multiple load working modes, supporting 1-13 hours light control timing mode.
5. Three phase power control to save cost.
6. Perfect protection features including short-circuit protection, over-current protection, low voltage protection, over voltage protection, over-temperature protection.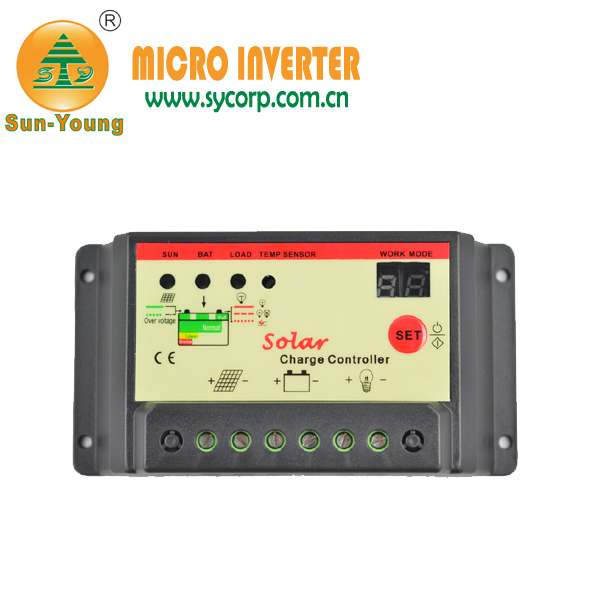 Production Specifications :
Model

SY-PWM-10A
SY-PWM-20A
SY-PWM-30A

Working Voltage

12V/24V
12V/24V

Rated Charge Current

10A
20A
30A

Rated Load Current

10A
20A
30A
Warranty Conditions
Warranty Period: 15-year limited warranty period.
Warranty Evidence: The B/L,Tracking no, and a completed warranty card.
We grant an implied warranty of 1 year to the inverter from date of purchase for repair or replace the Defective Product free of charge includes freight cost.
Furthermore, we provides an additional limited warranty for 14 years for repair or replace the Defective Product free of charge but non-free of freight charge. If your device has a defect or malfunction during the warranty period, please also contact our customer service staff or your retailer or installer.
Warranty claims are excluded for:
• Alterations or repairs to the unit without prior authorization
• Improper use or operation of device
• Improper and non-standard installation
• operating the equipment with defective safety devices
• Impact of foreign objects and force majeure (lightning, surge, storm, fire)
• Inadequate or nonexistent ventilation of the device
• disregarding of safety regulations
• shipping damage
• The Product has been improperly stored or was damaged while in possession of the Dealer or end user;
You might like