SY-WMVC-230W 24V

● 20-40Vdc input, compatible with Mono or Poly solar panel which Voc is 34-38V and Vmp is 26-30V ● 220V/230V output, suitable for utility power grid which voltage is 190-260Vac. ● Please be kind to note that this item is grid-connected type inverter.
Tips
1. Quick Introduce of Micro Inverter 230W
A. 20-40Vdc input, compatible with Mono or Poly solar panel which Voc is 34-39V and Vmp is 24-33V
B. 120Vac output, suitable for utility power grid which voltage is 90-140Vac.
2. Power Cable Infomation
We have EU(European), AU(Austrilia), USA, UK standard power cable.
Pls confirm your plug type at the same time to place order and pls remark what kind of plug do you need.
3. Package Accessories:
Each inner box: One inverter, one power cable, one English User Manual(including warranty card).
4. Package Accessories:
Freeshipping is only cover the normal place and excluding the remote place.
5. Pls note that the offer price is only for microinverter and excluding communication equipment. If you want to set up communication system for your PV system, pls contact our service for more details.
230W High Quality DC To AC Solar Grid Tie Micro Inverter
Shengyang is a professional in the grid tie inverter product development, manufacture and sales in the integration of high-tech enterprise. Not only we design, supply grid tie inverter but also we offer solution consult and install consult of both residential and commercial scale systems. Our grid tie inverter have been exported to Italy, Germany, Philippine, Spain, UK, USA, Brazil, Mexico, Sweden, India, etc. Our solar inverters and projects with high quality and competitive price has won good reputation among foreign users.
Benefits?
1. Produce your own clean power source which results in a better environment.
2. Reduce your reliance on Coal fired power stations.
3. Reduce your electrical costs.
4. Increases your awareness of electricity use and encourages more energy efficiency behaviour.
Features:
1. IP 67 waterproof design for profile and AC output & MC4 waterproof type solar connectors, suitable for dust place, desert enviorment, rainy area.
2. Built-in communication module, supporting for monitoring at any time.
3. Double AC output connectors, more convenience for wire connecting.
4. Creative MPPT tech makes efficiency higher than 99%, reaction more sensitive and mppt locking fore faster.
5. Creative circuit design and imported industrial components make application efficiency more higher than performance more stable.
6. Parallel modular componments design, more convinient for systems setting, flexible combination and system scalability.
Item

SY-WMVC-200W

solar inverter

SY-WMVC-260W

solar inverter

SY-WMVC-260W

solar inverter

Compatiable with solar panel

60 cells/230-250W

60 cells/240-280W

60 cells/260-300W

Voc: 34-39V, Vmp:26-30V

DC Voltage

20-40Vdc

MPPT Voltage

24-33V

MPPT Algorithm

CVT+PO

Efficiency

90%

AC Voltage

220VAC(170-250Vac)

Waveform

Pure Sine Wave

Max. Output Power Factor

99%(at MPPT Voltage)

Frequency

45Hz-53Hz/55Hz-63Hz(Automatic Detection and Adjustments)

Over Temperature

>65°C

Low Voltage Shut Down

<23V

Over Voltage Shut Down

>48V

Reverse Voltage Protection

Reverse Connection Circuit

Short Circuit

Fuse

Islanding Protection

Detect islanding within 0.02S, shut down output within 0.5S

Working Temperature

-25 to 60°C

Working Humidity

0-90%(Waterproof Design)

Communication

RF: Wireless Communication

Waterproof

IP65

Total Harmonic Distortion

THDIAC(V)

Phase Shift Rate

<1%

Standby Power

<2W

Boot to Full Power Consuming

Push-pull

Cooling Ways

Natural Convection

Certificate

CE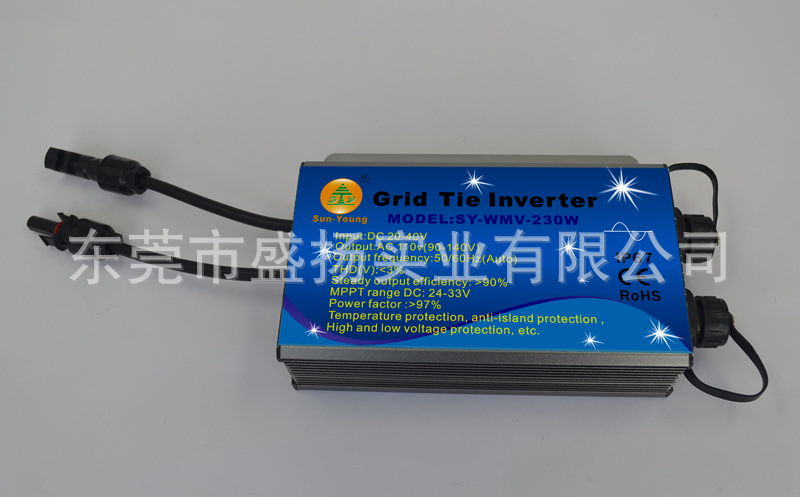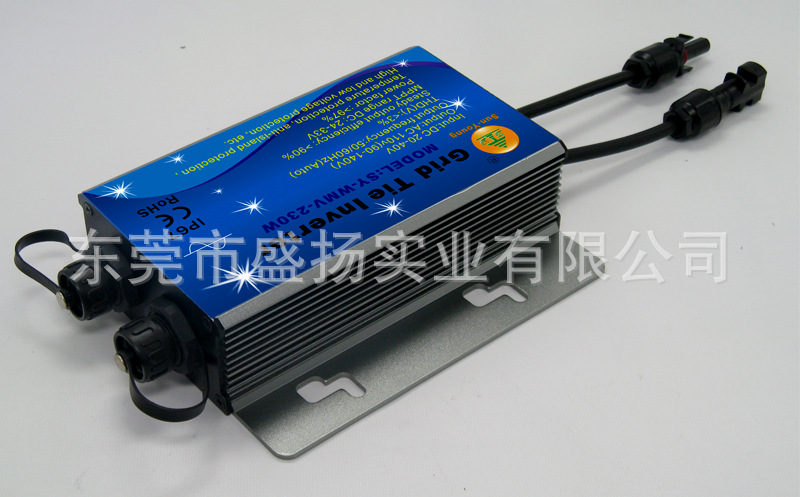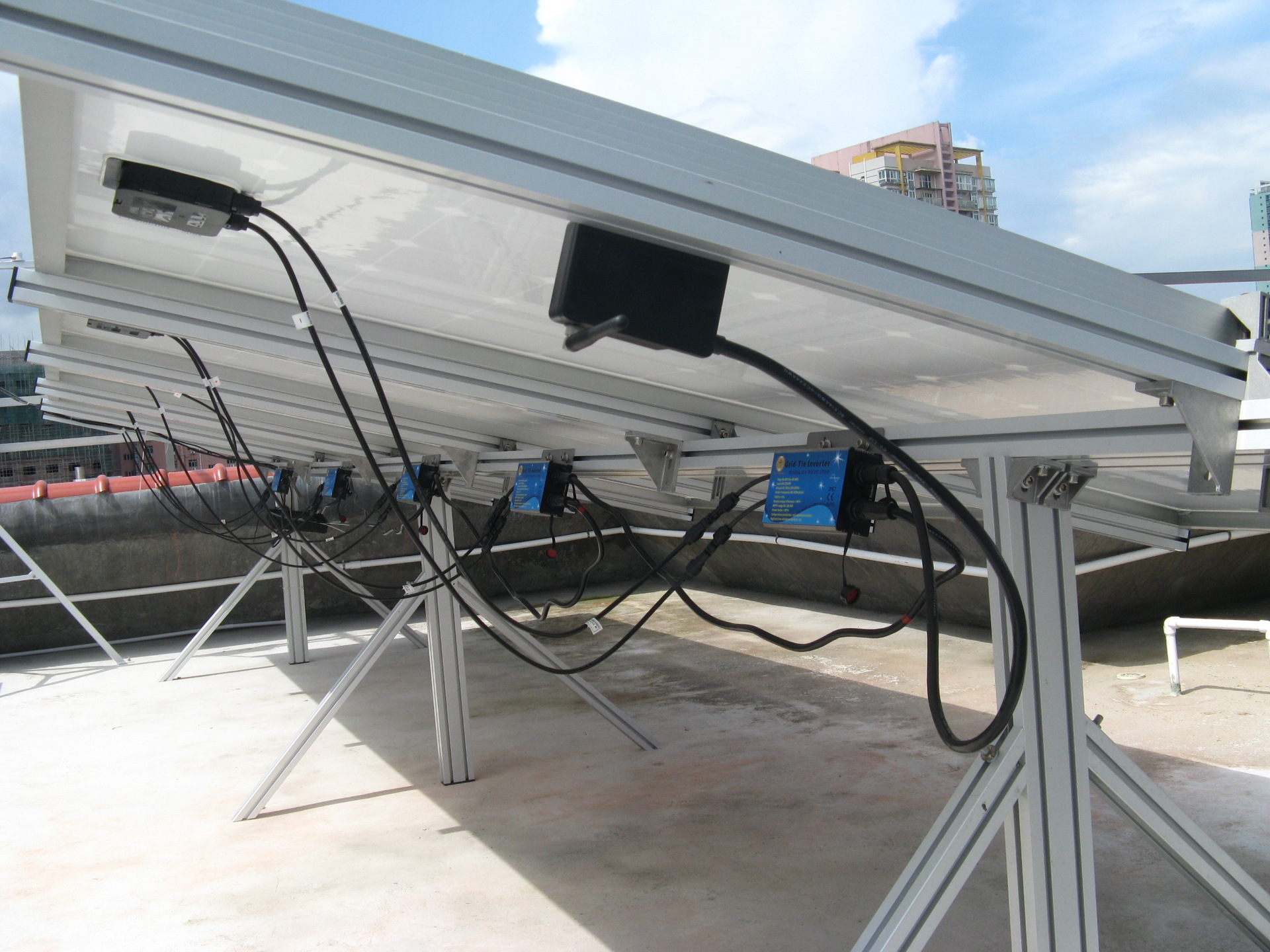 Web-based Monitoring Solution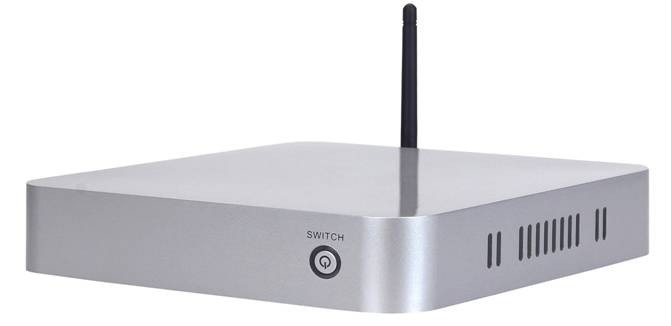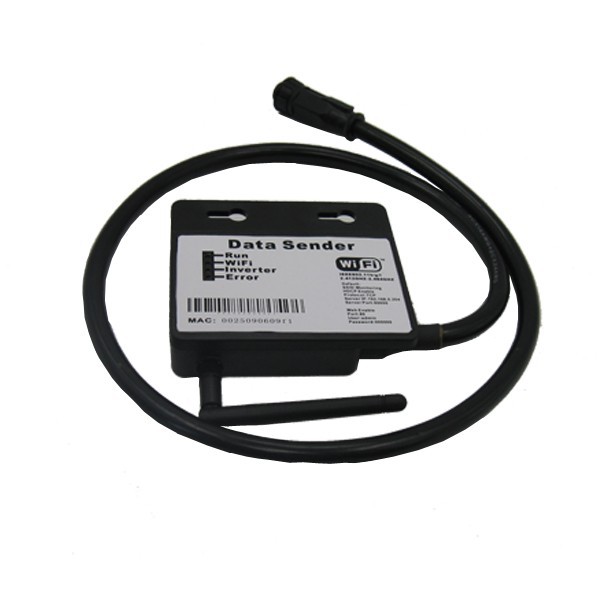 Warranty
We provide 15 years warranty( 1 year full warranty and 14 years free repairment or replacement excluding freight fee and tax cost etc).
For more information about other series of inverter or more details for this item, pls contact our service via below contact,
Email: cindy (at) sycorp.com.cn
Skype: cindy61799
You might like