SY-OGI-500W

Without Charger Soft Start SIngle Phase Off-grid DC to AC Pure Sine Wave Frequency Inverter 500W
1. It is featured as high reliability, and low failure rate, with the advanced double CPU SCM intelligent controlling technology.
2. Pure sine wave output, strong ability of driving load, wide range of application
3. Perfect protection functions (Overload protection, inside overheat protection, output short circuit protection, input low-voltage protection, input overvoltage protection), enhanced the reliability of the product.
4. Small and light: with the technology of CPU centralized control and SMD inside, the product is very small and light.
5. Intelligent control of cooling fan: Using CPU to control the working status of the cooling fans extends the service life of the cooling fans, saves the power and improves the working efficiency.
6. Low noise but high efficiency while working.
1.Suitable for

24V battery system
2 Industry equipments series: solar energy, wind power, gas discharge lamp and etc.
3 Office area: Computer, printer, copier, scanner, digital camera and etc.
4 Kitchen utensils series: Micro-wave oven, induction cooker,refrigerator, and etc.
5 House appliance devices: Electric fans, vacuum cleaner, AC, lighting lamps, and etc.
6 Power tool series: electric saw, drilling machine, punching machines, air compressors, and etc.
1 x Pure Sine Wave Inverter
1 x English user manual
1 x AC power cable
1 x spare accessory bag
Data Parameter
Model

SY-OGI-500W

Continuous Power

500W

Surge Power

1000W

Wave Form

Pure Sine Wave

AC Output

110/120V

AC Regulation

THD less than 3%(Linear Load)

Frequency

50/60HZ

No Load Current Draw

0.6A

0.3A

Output Efficiency

0.88

DC Voltage

DC12V

DC24V

Input Voltage Range

DC10--15V

DC20--30V

Low Voltage Protection

10 + 1V or

10 -

1V

20 + 1V, 20 - 1V

Low Voltage Alarm

10.3V

20.3V

Low Voltage Recovery

12V

+

1V, 12V-1V

20 + 1V, 20 - 1V

Over Voltage Protection

15V + 1V, 15V-1V

30 + 1V, 30-1V

Over Voltage Recovery

14.5V

29.5V

Over Temperature Protection

100 Degree, Shut Down

Short-Circuit Protection

LED Alarm and Automatical Recovery

Over Load Protection

LED Alarm and Automatical Recovery

Input Oppose

MOS

Cooling

Intelligent Air Cooling

Starting Mode

Single polarity soft start

Liquid Crystal Display

Supportability

Working Temperature

-10 degree to + 60 degree

Storage Temperature

-30

degree to +

70

degree
Application
1. Compared to commercial grade modified sine wave inverter, the pure sine wave inverter are more suitable for sensitive electronic equipments such as: medical instruments, emergency power, Oxygen concentrators, Cash registers, Home Theater, High-end Stereos, Computers, Power Tools, Radios, DVD players, TV's, Musical Instruments, Recording Equipment, Limousines, Buses, RVs, Precision Equipments, Sensitive Radio Equipment, Laser Printers, Fax Machines, etc.
2. The USB 5Vdc is suitable for electronic equipments such as:
Digital Camera, Cell Phone, Video Game, MP3, MP4, PDA.
Remark:
1. Applications requiring a higher output than the rated output are not be connected.
2. Some electrical appliances(such as power drills, refrigerators, power tools, pumps, compressors and cooking appliances) often need more power than it is stated on the specification plate.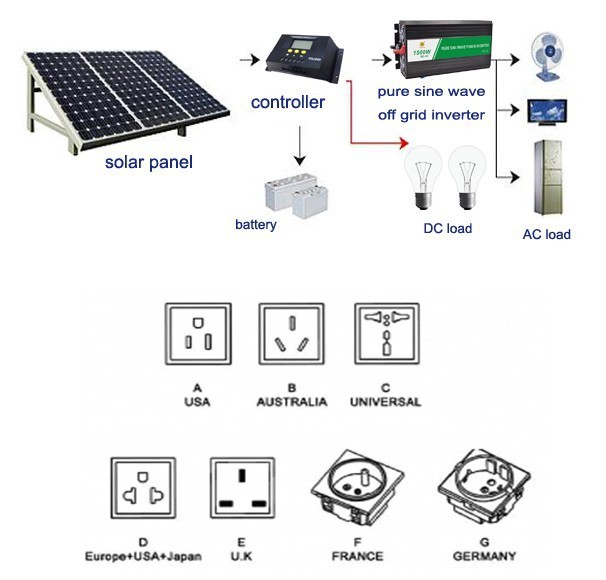 We guarantee this item against defects in materials and workmanship for a period of one year from the date of retail purchase by end user.
This warranty will be considered void if the item has been misused, altered, or accidentally damaged. We are not liable for anything that occurs as a result of the user's fault.
If the warranty period for the item has expired, if the unit was damaged by misuse or incorrect installation, if other conditions of the warranty have not been met, or if no dated proof of purchase is available, your unit may be serviced or replaced for a flat fee.
You might like